Odoo Customization
Unser Fokus liegt auf Standardisierung, aber sollte der Standard
nicht ausreichend für Sie sein, bieten wir die passende Entwicklung.

We create tailor-made solutions for your Odoo
to address your business requirements

We have experience in complex customization and developing specific and generic solutions for various industries.




We analyze your additional needs and then develop the best strategy to meet those needs.

We provide high-end customization services to ensure that customers get the most out of their applications and achieve their business objectives.
Odoo Customization Process


As we work with the Odoo implementation methodology, we try to avoid too many customizations and rather stick to Odoo standard, saving costs and effort for the customers. We don't use Odoo Studio (except for demonstration purposes) as this causes issues when upgrading etc.
If, nevertheless, we come to the decision that we need to develop, our development process for custom Odoo solutions includes all the major aspects ranging from consulting to delivering solutions. ​ ​
STEP 1
Requirement Gathering
The initial step of requirement gathering is to learn more about your goals and requirements, we will arrange a meeting with you and our staff.
STEP 2
GAP Analysis
GAP analysis provides the client with a comprehensive overview of the existing system as well as the missing features.
We examine which or your needs can be fulfilled by Odoo (and which not).
STEP 3
Feasibility Study
An investigation into whether it would be possible to implement the suggested changes in Odoo without endangering the pl atform's performance or affecting its default features. We can show you minor changes already with Odoo Studio before developing.
STEP 4
Estimation
A detailed estimation allows the company to maintain complete control of the customization project. You will be given an estimate of the cost, duration, and implementation.

STEP 5
Customer Approval
We wait for your approval to proceed further.

STEP 6
Development
The platform will be developed in accordance with the needs and requirements, as well as the standards.The team will make every effort to incorporate all of the features we have agreed upon with you.
2018
STEP 7
Testing and Delivery
The testing phase ensures that the App works properly and that no errors occur. Finally, the ERP will be delivered to the customer.

Examples of SAMSA-IT Customizations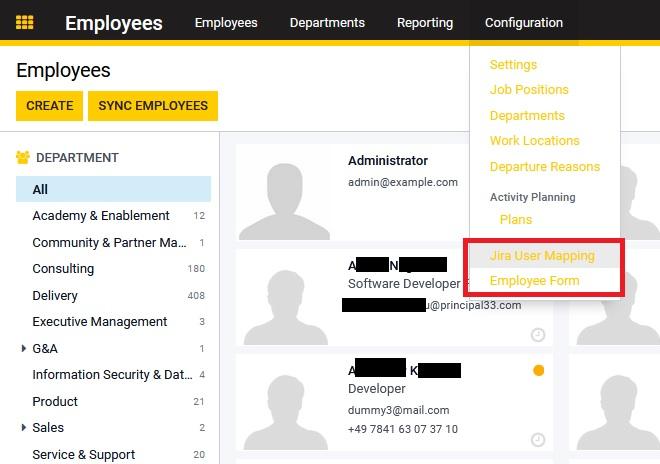 Angepasste Odoo Farben

The customer wanted Odoo to be displayed in his corporate identity colors. Furthermore he imports timesheets from JIRA to Odoo and therefore needed a mapping, to point different E-Mail addresses to the same employee. And last but not least he wanted the employee form to be readonly except for some specific fields (see next field for further information).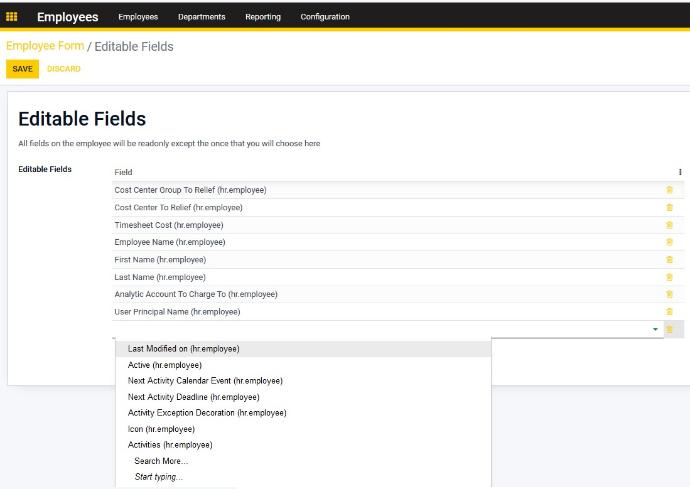 Administrate employee form

The HR department of the customer wanted that nobody else but them can change the employee form fields. And also themselves, they only wanted certain fields to be editable by them. So we created an app, which allows you to determine in the users access rights, who can edit the employee form fields. And in the second step, this app makes all the fields readonly except for the ones you choose in the app.